The morning of March 3rd, 1997 started like any other day. My dad got up early and left for work before any of us woke up, as per usual. My brother, mother, and I got up around 7am and got ready for school and work, and when we went outside, we discovered that my mothers' car wouldn't start. At that time in our lives, we didn't have a lot of money, and a home phone was something that we had decided we could live without. We also lived out in the country, and our closest neighbor was about a half mile down the road. Because of this, we had no way to get to school or work, so we stayed home for the day. Mom decided we would not waste the day, but we would spend the day doing some spring-cleaning, so she set us off to work.
I was to clean my room and the living room, my brother was cleaning his room and burning the trash (a common practice living in the country), and my mom was cleaning the rest of the house.
We all began working on our prospective jobs.
I, however, being a curious 7 year old, didn't want to stay in my room, I wanted to follow my big brother around and help him outside. But I was told "No" several times because of the potential of danger. But as children usually do, I found my way outside and into trouble.
My brother had just started the fire when I got outside. I stood silently behind him and watched the fire dance and flicker, almost as if it were beckoning me to come closer. I took a step forward, and my brother turned his back and went to grab some more bags to throw on the fire.
Two more steps.
No one had noticed that I had snuck out.
Four more steps.
So close, I could feel the warmth of the fire on my skin. Then, before I knew what was even happening, I was knocked back by a deafening blast of fire and sound. Then, darkness.
What happens next comes in pieces. I remember being in a truck and asking my mom if I was going to die. I remember asking my mom to sing to me, and her singing Silent Night. And then I remember waking up in the hospital. However, as I got older, my mother filled me in on the story, and it really is quite a miracle.
As you may recall, we had no car, and no telephone, so we had no way to get to a hospital. When the accident happened, my mother ran out and tackled me and put out the fire. My brother took off running and started looking for a neighbor. The first neighbor wasn't home. The second neighbor, thankfully, was home. But the miracle of the story is that in twenty years, this man had never come home for lunch, yet on that day, something told him that he NEEDED to be home. I truly believe it was GOD who told him to be home, because without this man taking us to the hospital, I very well may have died that day. Through God's plan to have this man be home, we had a ride to the hospital.
I spent 14 days in ICU, and 28 days in the hospital total. I have had more surgeries than I can even remember. But while I was there, I learned about the Oklahoma Firefighters Burn Camp. I went to the camp for the first time in 1999 and have gone back every year since. Through this camp, I have met many wonderful people. In fact, I met my husband, Seth Shingleton, that very first year (I just didn't know then that we would grow up and get married!).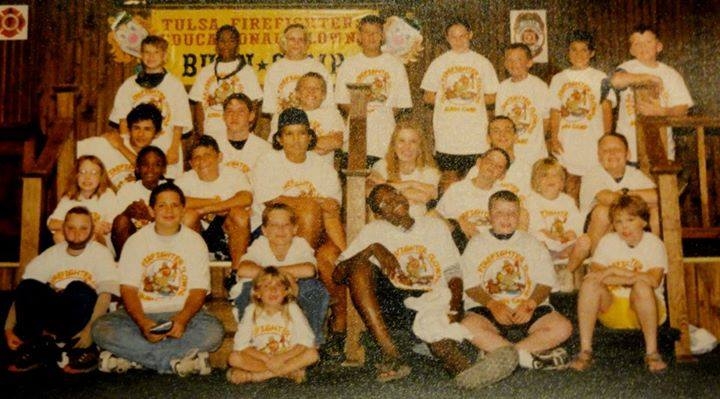 Oklahoma Firefighter's Burn Camp 1999~ The Very 1st Year of Camp
Seth and Stephanie just happened to be sitting next to one another! Who would've thought?!
Seth was burned in April of 1998 when he and a friend were playing in the back yard and decided to build a small fire. The fire soon got out of control and Seth began to panic, so he grabbed the closest thing to him, which just so happened to be a gas can.
The gas can exploded and Seth was engulfed in flames.
He took off running down the street in a state of panic. Thankfully, a neighbor saw him. His neighbor tackled him and put out the flames, and called 911 to get him to the hospital for help.
God definitely had His hand on Seth that day as well. If he hadn't given the neighbor the courage to assist Seth and put out the flames, Seth's injuries could have been fatal.
Seth and I both struggled independently with self-esteem issues throughout our lives, both wondering if we would ever find love, if we would ever find someone to spend the rest of our lives with, and if we would ever get to have a family after enduring the injuries that we both did. Not only did we feel that no one would find us appealing, we also felt like we weren't deserving of love.
But, boy, were we wrong!
Everyone is deserving of love!
And I am just so thankful that I found love in my relationship with Seth. We have been married for a year and half and we have a beautiful 7 month old baby girl named Olivia.
So not only did we get to do all of the things we dreamed of, we exceeded our expectations of these dreams!
So please, to whoever is reading this, don't be discouraged. You are deserving of love, you are deserving of a healthy relationship, and it WILL happen for you. Have patience, and put God first, and all the pieces will fall into place.
God bless you all, and
Happy Thanksgiving!
I PRAY THIS POST SPOKE TO YOU. WOULD YOU CONSIDER SUPPORTING THIS SITE AND OUR UPCOMING PROJECTS BY SUBSCRIBING TO OUR BLOG AND SHARING WITH OTHERS? WE CAN'T GROW WITHOUT YOU!
A LITTLE THOUGHT FROM HEATHER:
Burn survivors. It's a group no one ever wants join. But it's a group of the strongest, toughest, bravest people on the planet. And it's not a courage from the mere physical pain alone, because that is beyond conceivable, but it is a courage that is exhibited in the face of living. Life is never the same after a burn injury. The scars remind us, and everyone we meet, of the day tragedy marked our lives. However, while life is never the same, life can still be good. Stephanie and Seth are examples of such realities. I met Stephanie and Seth a few times over the years through our Tulsa Area Burn Survivors annual Christmas parties where we assemble and deliver baskets to burn patients, and through my opportunity to attend the Oklahoma Firefighter's Burn camp one year. It just so happen to be that the year I was able to attend was the year something sparked between them. I was excited when I heard they were exploring the chemistry, and overjoyed when they tied the knot! They are the most beautiful love story! This Thanksgiving let their story inspire you to be thankful for today. There is so much hope in this one day. And be encouraged for tomorrow. You never know what the future holds. Romans 12:2b "let God transform you into a new person by changing the way you think. Then you will learn to know God's will for you, which is good and pleasing and perfect." ❤ Heather